Hotel website with a Design that brings out the unique characteristics of your property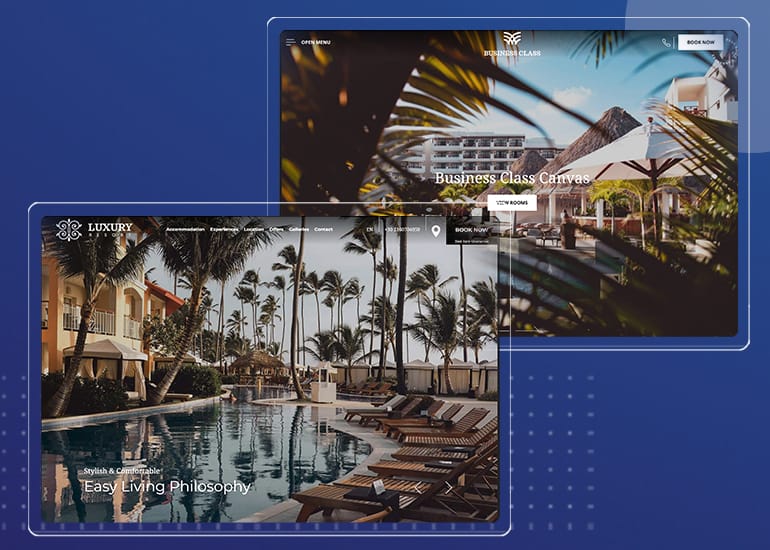 Choosing the best design for a new hotel website is never easy and requires many and varied parameters to be taken into account. Maximum importance is given - rightly - to the aesthetics of the website since it plays an important role in the purchasing behavior of potential guests.
But is it enough for a hotel website to look good? Are "good aesthetics" limited to a beautiful design and successful color scheme?
The importance of good aesthetics
Good aesthetics are often a matter of subjective opinions. However, it is commonly accepted that the aesthetics of a hotel website should be consistent with the style of the accommodation and underline its positive characteristics. Therefore, when choosing the design of a website, the personal aesthetics of the owner or executives of a hotel company are not the only parameters to be taken into account.
You should also consider how the specific design supports the operation and highlights the character and services of the unit. In this way, the company can be sure that it will effectively attract its target audience and promote the characteristics of the accommodation and its individual benefits in the best way.
Specialized Design for every type of accommodation
By defining as the main feature of its implementations the fact that each type of accommodation has different elements that should be presented and highlighted, Hotelwize develops specialized canvases that focus on these elements, enhancing their visibility and underlining the accommodation's diversification.
Thus, Hotelwize offers a wide range of options regarding the design of each hotel website, depending on the type of accommodation.
Among other things, Hotelwize's canvases meet the needs of the following accommodations:
City Hotels
Summer Resorts
Winter Accommodations
Luxury Hotels
Boutique Hotels
Design Hotels
Business Hotels
Villas
Apartments
Hotel Chains
Short-Term Rental Property Management Companies
The design aesthetics in each of Hotelwize's Canvases focus on the promotion of the strongest features of each type of accommodation, aiming to highlight them in such a way that they would attract potential guests.
Contact Hotelwize's team of experts, share with us the main features of your property and your goals regarding your online presence, so that we can choose together the best hotel website design that will highlight your property in the best way!