Simple steps to develop a hotel website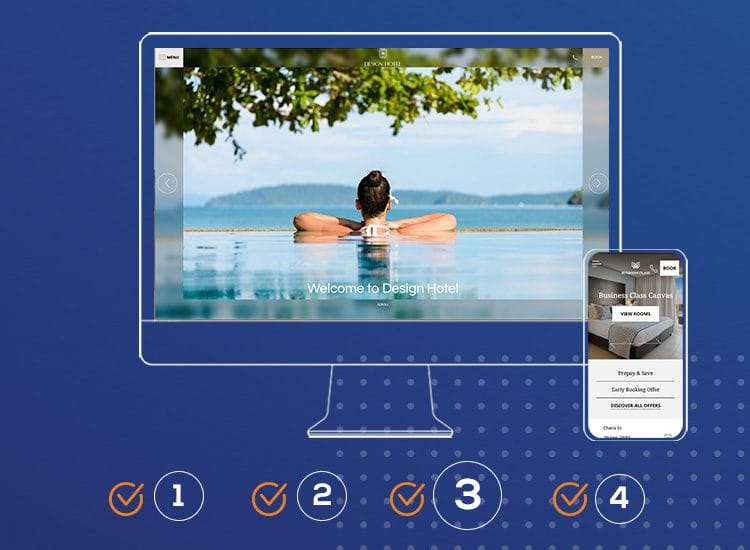 The difficulties faced by the hospitality industry in recent years highlight how important it is for every accommodation property to have a complete presence on the Internet with a quality and effective hotel website as its main point of reference.
How can I easily get the best hotel website for my property?
Hotelwize has developed an easy and fast process through which every hospitality business can acquire quickly and effortlessly the best website for its accommodation, enhancing its brand and sales! The development of a hotel website begins with the communication with the Hotelwize team so as to discuss the online presence of your accommodation and how we can support you.
New hotel website in a few steps
1. Website Customization
After choosing together the Canvas that best highlights your business, the Design and Development team of Hotelwize will customize it based on the special characteristics of your property.
2. Content Curation
The development of a hotel website at Hotelwize is a matter handled entirely by our team! Hotelwize's team will incorporate the videos, photos, and texts you will give us into your website, while at the same time carrying out all the actions in order to add the required SEO parameters and optimize the final result.
Finally, the development of your hotel's website is completed when connected with the booking engine as well as with any other application you have chosen to support the hotel's online sales (e.g. rate comparison applications, applications for online booking of activities, online chat).
3. Your Website Goes Live
After the final result has been checked by both the Hotelwize team and yourself, your new website will be published! You now have a booking pole of attraction in your hands. Present your hotel in the best possible way, promote your website, manage your direct bookings, and serve your guests!
4. Post-Launch Support
At Hotelwize the development of a hotel website is completed with the complete satisfaction of our customers and after the publication of the website we continue to stand by their side.
For Hotelwize one of the most important steps of the website is our service to you, even after the publication of your website. We train you so that you can easily update the content of your website yourself, and we remain at your disposal for anything else you may need, providing communication through multiple channels (email, phone, chat, messenger).
Get a successful hotel website for your property!
Hotelwize has already demonstrated hundreds of successful hotel websites with customers in several countries. The effectiveness of the Hotelwize solution, combined with the impressive design, the advanced technology of our platform, and the importance we give to the service of our customers, is confirmed both by the high score that Hotelwize receives on evaluation websites and by our awards in various countries, including the USA.