Leading Hotel Website Software for Impressive Websites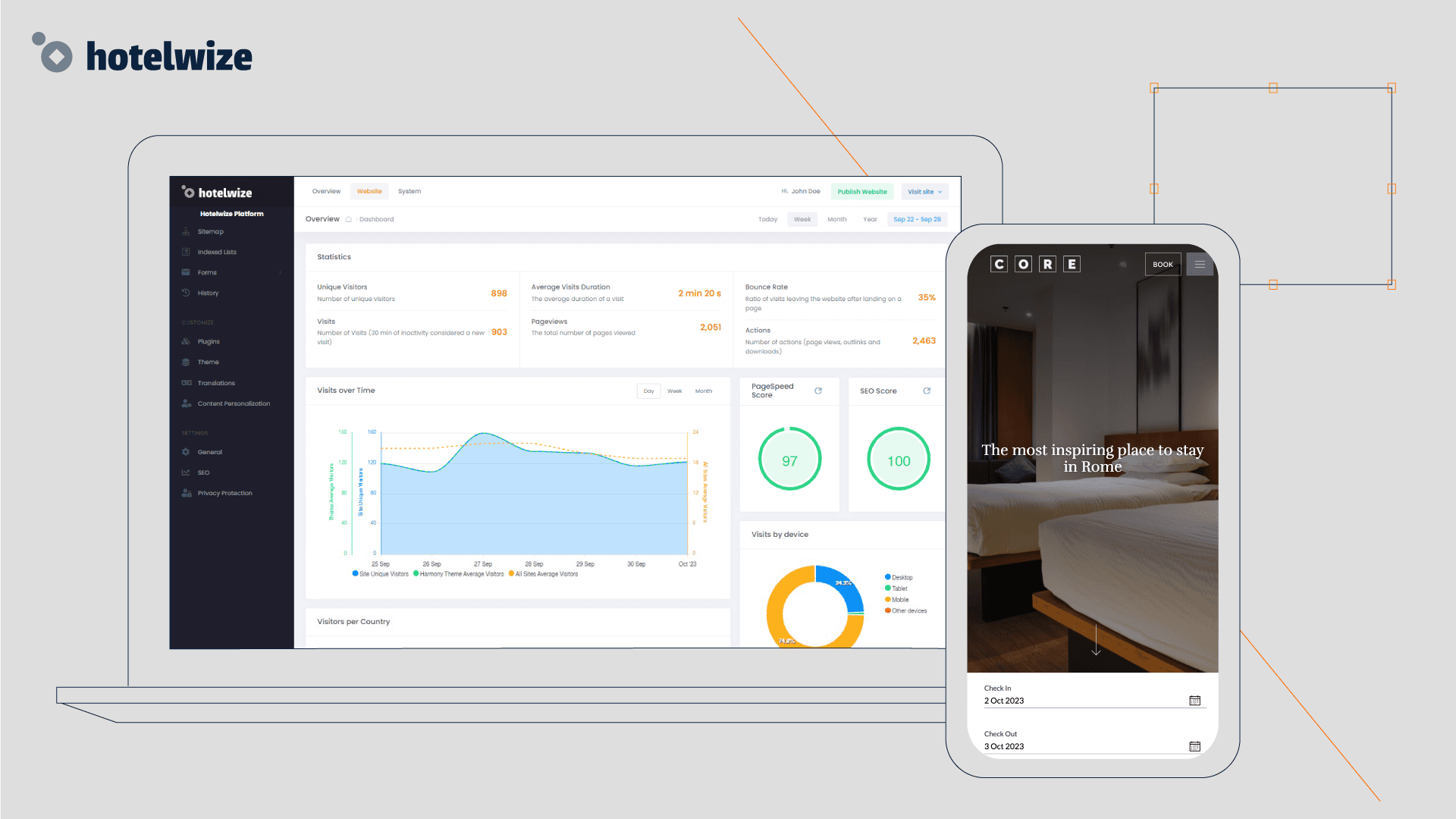 As a hotel professional you know that a robust online presence is essential for hotels to thrive. A compelling website is the gateway to attracting and engaging potential guests, ultimately driving direct bookings. Hotelwize is the epitome of advanced hotel website software that empowers hoteliers to create top-performing and effortlessly managed hotel websites.
Let's delve into the essence of Hotelwize's technology, its user-friendly approach, and its unmatched extensibility through seamless integration with third-party hotel software and digital marketing tools.
Powerful Hotel Website Software
Hotelwize platform features state-of-the-art technology designed exclusively for the hospitality industry. This specialized hotel software is meticulously crafted to cater to the unique needs and demands of hotel websites.
Liquid e-Commerce for hotels with seamless integration of the booking procedure withing the hotel websites, Web Content Personalization that enables hotels to promote to each guest relative content, as well as the effective use of AI for hotel websites' content generation are some of the highlights of this conversion-oriented hotel software. In addition, Hotelwize offers a sophisticated middleware that serves as a bridge to seamlessly integrate with a myriad of third-party applications, enhancing both the user experience and the efficiency of the hotel's online presence.
Easy Hotel Website CMS: Simplifying Your Digital Actions
One of the key features that sets Hotelwize apart is its easy-to-use Hotel Website CMS. With an intuitive and user-friendly interface, Hotelwize ensures that hoteliers can effortlessly manage and update content on their hotel websites without the need for specialized knowledge or time-consuming procedures. The focus is on simplicity, enabling hoteliers to maintain an engaging and up-to-date digital front effortlessly and at low cost.
Extensibility through Third-Party Software Integrations
Hotelwize understands that a hotel's digital ecosystem comprises various tools and applications crucial for enhancing guest experience and driving conversions. To facilitate this, Hotelwize has developed a hotel software middleware that seamlessly integrates with an impressive array of third-party hotel website applications, making it a versatile and extensible website software. From booking engines and chats to maps, marketing tools, newsletters, and more, Hotelwize can be effortlessly extended to encompass the functionalities offered by leading third-party hotel software and digital marketing tools.
If you're seeking a user-friendly, specialized hotel website software that seamlessly integrates with third-party hotel website applications, empowering your hotel to enhance its online presence, then Hotelwize is your ideal choice. Craft a website that not only reflects your brand but also captivates potential guests, ultimately leading to increased direct bookings and revenue. Embrace the future of hotel websites with Hotelwize and watch your digital presence flourish!