New website for your hotel in just 7 days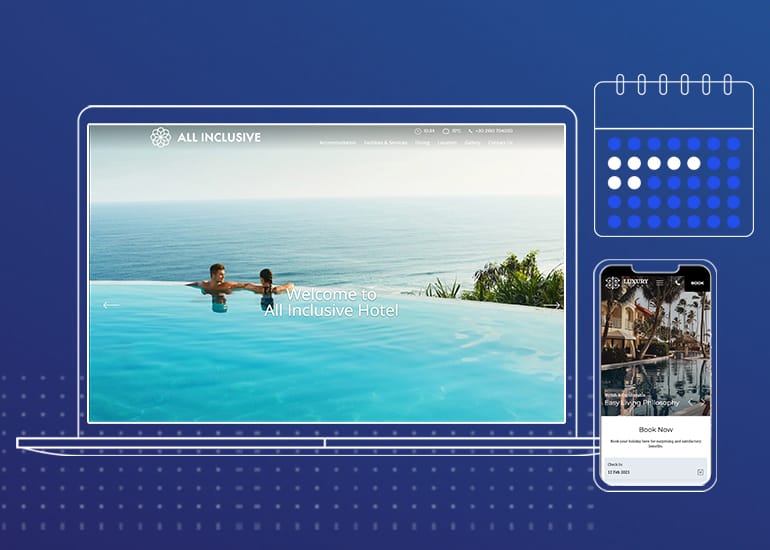 An imponderable factor that is usually overlooked by hotels when choosing the company that will develop their website is the time it takes for its development. The time needed for the development of a website usually takes several weeks or months, especially if it is a custom implementation. However, this makes the development of a new website prohibitive for hotel companies that, either due to lack of planning or lack of photographic material, need to create a new website just before the start of the tourist season.
Immediate and effortless creation of a hotel website
The need for the rapid development of a hotel website, leads many hotels to emergency solutions such as do it yourself website platforms, with immediate but questionable quality results. In order to achieve the required result that will effectively showcase the accommodation and its services, a professional solution with proven quality should be chosen. The solution that can combine shorter development times with better results is the logic of already-made templates for hotel websites. The pre-configured themes ensure that the hotel will receive a specific deliverable. Their quality of course and the final delivery time vary depending on who will create the new website. Assigning its creation to a specialized hotel website development company is undoubtedly the optimal solution, as it ensures the best result and maximum efficiency.
The best hotel websites in 7 days from Hotelwize
Hotelwize develops special Canvases based on the unique characteristics and specific needs of each type of accommodation. Hotelwize's Canvases, on which hotel websites are set up are designed by award-winning designers specializing in hotel websites, while at the same time, the technology used ensures the best content display speeds and maximum security against hacking actions.
One of the most important elements of Hotelwize's websites, however, is that after receiving the material from the hotel, the development of the new website is carried out entirely by the experienced professionals of our team and it is delivered to the property in just 7 days, providing the best result in the shortest possible time!
Contact the Hotelwize team and learn more about how to get an impeccable website of high aesthetics in just 7 days!